Former Cuban political prisoner El Sexto paints graffiti mural about freedom at UFM
---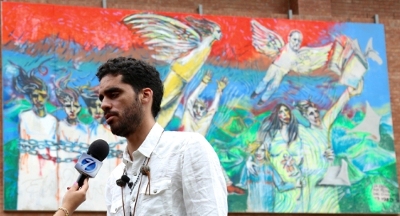 GUATEMALA CITY, March 18, 2016 /PRNewswire/ — Danilo Maldonado, the Cuban protest artist known as El Sexto, was a political prisoner of his country's regime until a worldwide campaign secured his release in October 2015. Last week, he painted a large, graffiti-style mural on the campus of Universidad Francisco Marroquin (UFM), his first such effort outside of Cuba. Inauguration was on Monday, March 14, hours before El Sexto boarded a flight to return to his homeland.
The thirty-two-year-old dissident has been imprisoned many times for protesting against the Castro regime through his art. In December 2014, he planned a performance inspired by George Orwell's novel Animal Farm. It included the release of two pigs on which he painted the names Fidel and Raul. Before he could begin, El Sexto was arrested. He was held for ten months at Valle Grande prison.
The mural at UFM is titled "Freedom Through Knowledge." At the unveiling Maldonado thanked the university "for this opportunity and this challenge. It's the first time I've done something this big." The spray-painted mural took ten days of intense work. It bears the signature "El Sexto," a famous feature on the walls of Havana.
UFM president Gabriel Calzada addressed the crowd, "We are deeply grateful to Danilo for speaking about human rights with Guatemalan students, extending his trip for a week, and leaving UFM with a work of art that exalts individual freedom." Calzada announced that UFM has awarded Danilo Maldonado the title of distinguished professor, in recognition of his dissemination of ideas of liberty through art.
El Sexto came to Guatemala as a speaker at the College Freedom Forum, a project of the US-based Human Rights Foundation. It is the first time the event has been held outside the United States. Eight hundred university and high school students participated, surpassing audiences at universities such as Yale, Stanford, and Tufts.
The mural painted by Maldonado is located at UFM's cultural center on an outer wall of the building that houses the School of Film and Visual Arts and the Popol Vuh Museum of Maya archaeology.
It is a fitting birthday present as UFM celebrates 45 years of teaching and disseminating the ethical, legal, and economic principles of a society of free and responsible persons.
---